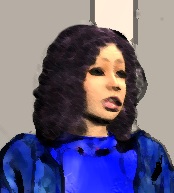 Mary Elizabeth Dearborn (b. 1999) attended the Charmbridge Academy from 2010 to 2017. She is the younger sister of Darla and Hilary Dearborn, and has been described as "pretty, with eyes as dark as her hair."
Sometime around 2008, Mary was selected by secret lottery as the Deathly Regiment's sacrifice to the Generous Ones for the year of 2010.
In October of 2008, Darla had a vision concerning her sister during the initiation ceremony of the Mors Mortis Society. Darla then set out to find a way to prevent her death, going so far as trying to substitute another child for her sister.
In August of 2009, she accompanied Darla to the Colonial Bank of the New World in the Goblin Market.
In June of 2010, she visited the Charmbridge Academy with her parents and oldest sister to talk with Lilith Grimm about Darla's death.
Sixth Grade
Edit
In September of 2010, Mary rode the Charmbridge Academy Bus to the Goblin Market to purchase school supplies for the coming year. On the first day of school, she witnessed Alexandra Quick leap from the Invisible Bridge at Charmbridge Academy after the ninth-grader was attacked by a murder of crows.
She was later approached by Quick, who attempted to apologize for Darla's death, and accused Alex of murdering both Darla and Maximilian King. On Hallowe'en, Mary watched the Charmbridge Dueling Competition, and later confronted Alex and Anna Chu in the forest at the edge of the school grounds.
Mary is the younger sister of Darla and Hilary Dearborn, the daughter of Mildred Seelye and James Dearborn II, the niece of Gideon Dearborn, the granddaughter of Roberta Carling, James Dearborn, Deborah Leiter, and Osric Seelye, the great-granddaughter of Verity Smith and Michael Dearborn, the great-great-granddaughter of Sarah Thorn and Hercules Dearborn, the third-great-granddaughter of Patience Hallowell and Ezra Thorn, and the fourth-great-granddaughter of Hippolyta Black and Absalom Thorn.
Her family are major shareholders in Grundy's, while her father is a Colonial New World Bank executive, and her uncleis a member of the Wizards' Congress.
She and her sisters are fifth-cousins of Alexandra Quick.
Appearances
Edit
Ad blocker interference detected!
Wikia is a free-to-use site that makes money from advertising. We have a modified experience for viewers using ad blockers

Wikia is not accessible if you've made further modifications. Remove the custom ad blocker rule(s) and the page will load as expected.