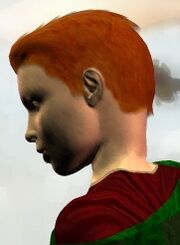 Payton Smith (b. circa 1994/1995) is a wizard living in the Roanoke Territory. He is Muggle-born, and was under the impression that the Charmbridge Academy only admitted pure-blooded wizards. He attends a magical day school.
He attended the New Roanoke Spring Cotillion in April 2009, and danced with Alexandra Quick.
In June 2010, he encountered Quick and her sister Julia King in New Roanoke, where he had asked Alex to lunch. She accepted.
During the Summer of 2010, he attended the Pirate Fleet Invasion in Roanoke with Alex and Julia. After Julia left the two alone on a pier, he kissed Alex, and the two agreed to have a long-distance boyfriend/girlfriend relationship.
In September 2010, Smith mailed a letter to Alex at Charmbridge, including a poem that he had written for her.
Allusions
Edit
Smith shares his surname with (besides roughly 1% of the American, British, and Australian population) an early Virginian colonist.
Appearances
Edit
Ad blocker interference detected!
Wikia is a free-to-use site that makes money from advertising. We have a modified experience for viewers using ad blockers

Wikia is not accessible if you've made further modifications. Remove the custom ad blocker rule(s) and the page will load as expected.